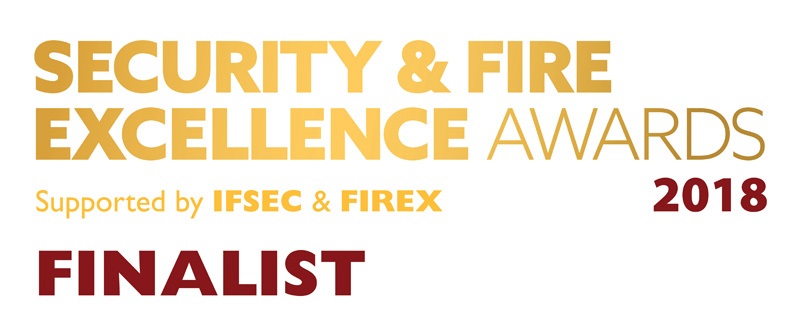 Home | News | Broadsword Security Finalist in IFSEC's Security and Fire Excellence Awards 2018
Broadsword Security Finalist in IFSEC's Security and Fire Excellence Awards 2018
Broadsword Security has won through to the final shortlist in the Small Security Installer of the Year category in the IFSEC Security and Fire Excellence Awards
Broadsword Security is thrilled to announce that they have been selected as a finalist in this year's Security and Fire Excellence Awards in the category of Small Security Installer of the Year.
The Security Excellence Awards
The Security Excellence Awards are now in their twentieth year, and have consistently broken new ground in highlighting the very best people, companies and projects that the UK's security sector has to offer. The high calibre Judging Panel – including representatives from all areas of security & fire, the world of academia and the policing sector – will determine this year's Winners, who will be announced at the Awards ceremony at the London Hilton on Park Lane on November 21st, hosted by the actor James Nesbitt.
Broadsword Security General Manager, Marie Granville, said:
"This is fantastic news and such a great achievement, only possible because of our exceptional team and amazing customers. We take pride in delivering the latest security products and superior customer service and we're delighted that this has been recognised. Thank you to all our customers, suppliers, partners and our talented team for continued support."
About Broadsword Security
Broadsword Security has been protecting people and property throughout Oxfordshire and the surrounding counties since 1985. Broadsword Security is a family business which prides itself on maintaining relationships with existing customers and with providing a superb and unrivalled level of customer care and value for money. It offers industry-leading products and services, whether you're looking to secure your business or your home. We supply and install a wide range of products, including intruder alarms, fire alarms, CCTV and access control systems to the highest Safecontractor, and NSI Gold security standards. Our price match guarantee ensures you get the best value for your money. Your security systems are protected by warranty for 12 months from installation and we offer comprehensive monitoring services, ensuring the continued security of your premises.
Broadsword Security promotes a flexible work environment and we are delighted to have many in our work force who have been with us from the start and support many employees to enjoy a modern work-life balance through the provision of part
time roles and apprenticeships. Broadsword Security works hard to maintain the family values initiated by founder, John Granville, and have successfully evolved the business since John's son, Pete Granville, took over and built the business to where it is today. Broadsword Security continues as a partnership between John and Pete Granville and is run by Marie Granville, Broadsword's General Manager.
To celebrate this wonderful news, Broadsword Security is offering 10% off all new security systems booked and installed in October when customers quote BSS10.