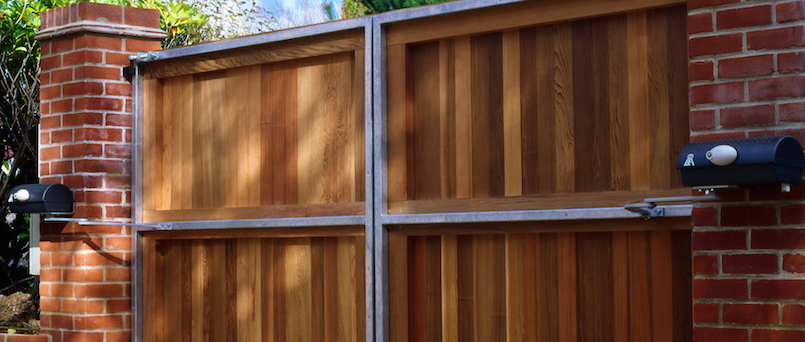 Home | News | 4 Things to consider when researching automatic gates
4 Things to consider when researching automatic gates
Domestic access control systems – simply referred to as Automatic Gates – are becoming increasingly popular amongst home owners in and around Oxfordshire. Automatic gates are often installed for their security benefits, but these gates can also have a large social and visual impact on your home, driveway or wall perimeter.
Here at Broadsword, we have compiled our top 4 factors to consider when making that all important purchase:
1. Security
Most definitely the paramount feature when researching automatic gates. Access control systems are primarily installed for their security features and you should always ask for detailed specifications from any gate supplier.
2. Aesthetics
Whilst attractiveness is not at the top of everyone's list, you should always look to get the most for your money when considering an automatic gate system. Gate aesthetics can be the difference between your "final two" so make sure you investigate alternative finishes, polishes and colours. After all, it would be a shame to compromise on something that you'll pass through every day!
3. Buzzer
The buzzer – or security terminal – is the user interface for your access control system and is the feature that individuals interact with when approaching your property.
If you have regular visitors or you are installing a gate for an elderly or disabled person, consider the ease of use and how it may affect others. Security terminals come in a wide range of shapes and sizes, so make sure you put yourself through the motions and ask: what would you be comfortable using on a daily basis?
4. Distance from your front door
It may seem obvious, but the distance between your access control system and your front door can have a huge impact on the overall purpose of your gate. If you are installing an automatic gate for security purposes, does the distance from your property render the gate ineffective? If you are hoping to install a gate for aesthetic reasons, ask yourself: does the gate compliment the style of my house? Or is the distance far enough from your property not to matter?
If you would like to discuss your own requirements or are considering investing in access control systems, please get in touch with a member of the Broadsword team!